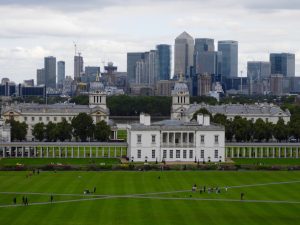 1.Getting There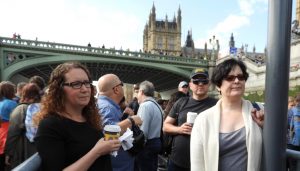 In a sense we were going back in time as we traveled to Greenwich–essentially a late 17th-century planned town, so it made sense to take a leisurely boat (albeit a motorized one), even as we began our excursion in the usual way: standing in line–with coffee in hand.
The boat–slowly made its way past the most famous monuments of London, allowing us to chart both tourist time (the slow, time-suspended, checklist march from famous site to famous site) and historical time–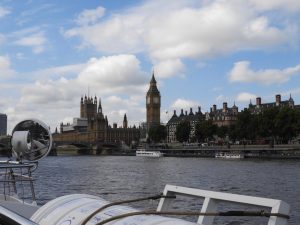 not only by moving from the medieval Westminster Abbey to the twenty-first century Shard, but reflecting how the Shard itself was built over the medieval Tabard Inn, made famous in The Canterbury Tales.  The latter reminds us that most of these medieval and Renaissance buildings have been torn down and built over, or suffered badly over time–the 17th century fire of London and World War II in particular–so they are essentially re-imagined versions of their original selves: the space of the historical is and is not itself.
Most tourists got off at the Tower of London–itself an oddity of modern tourism–the desire to get historical frissons of pleasure/horror from stories of decapitations, deprivations, suffocations, and torture.  Our group stayed on, moving  past some of the areas that historically had been the poorest and most rife with rats and cholera, but now theses same spaces are sites of personal wealth and of new business enterprises, as the gleaming buildings of Canary Wharf reminded us.  Two stories stood out: the actress Dame Helen Mirren is selling her flat in the historically poor east of London for 6.5 million pounds; and the Isle of Dogs–once so infamously poor and barren that it inspired the title of Ben Jonson's 1601 savagely satirical play against the London Council (a play which was soon destroyed and lost to posterity by order of the London Council)–is now a place of show-offy prosperity.
Greenwich
If any place is about time and space, it is Greenwich: Greenwich mean time.
Greenwich–the place of pleasure and escape from London for so many of its prosperous citizens from the Middle Ages through today, also attests to the way that the British ability to transform navigational time and space into mathematical equations was key to its colonial expansion.  As such, it is a place whose elegant neo-classical buildings show off Britain's pride in its conquest of time and space, but also a place somewhat frozen in time.  Almost the first man-made object one encounters in Greenwich is an 18th century ship.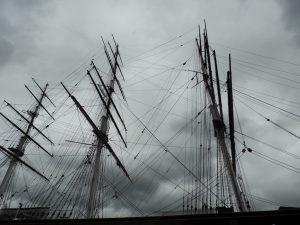 And, throughout, the beautifully, and beautifully spaced out, buildings and parks reflect the mathematical beauty of proportion and balance–the situation of the Royal Observatory prominently displaying this love of symmetry, as if scientific innovation and aesthetic beauty must necessarily accompany each other.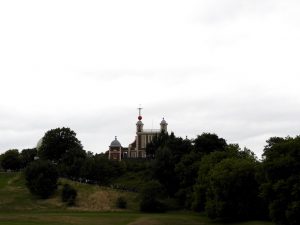 Climbing to the apex, the group paused for a quick conversational refresher before moving into spaces dedicated to beauty, time, and navigation.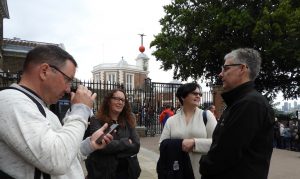 Here are just a few examples of the tributes to time and beauty that we encountered: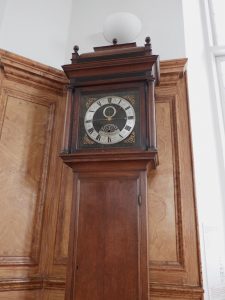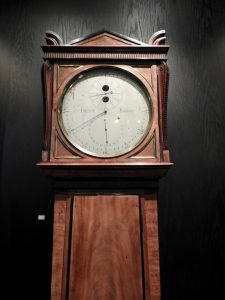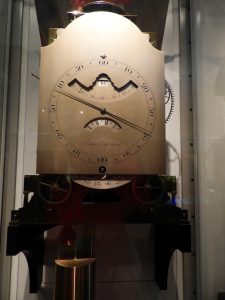 If then, this group trip is about time,one might say that we found the place where our modern notions of time were invented, particularly as we stood, one-by-one, on the point of zero degrees longitude and latitude, and noted–but didn't shop at–the first shop in the world.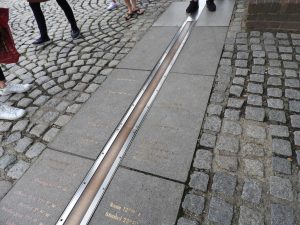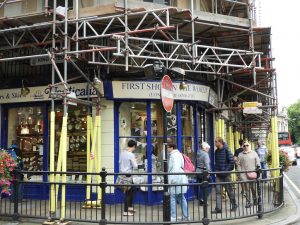 So, perhaps it is fitting that we ended our day being reminded that we are slaves to time; our anticipated short stop at a pub for lunch ended up taking up almost two hours, as we were preceded by a large group of tourists.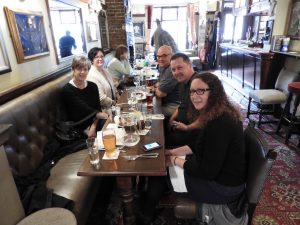 Save